Setiap baris kode sangat berarti
Utilizing modern programming languages as our platform, we refine, design & build digital products for startups & established businesses.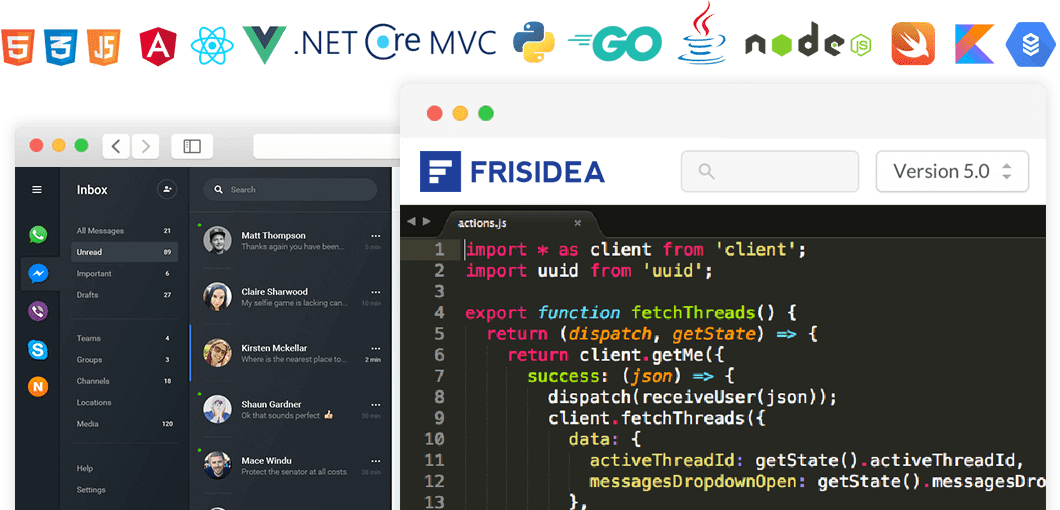 Bring ideas to life with Frisidea
Frisidea adalah perusahaan teknologi untuk pengembangan perangkat lunak, memberikan berbagai kontrol website, seluler, dan desktop yang digabungkan dengan pendekatan yang berorientasi layanan pada aplikasi.
The right partner in every stage of the technology development
Design and build stunning and usable apps for web and mobile.

Build product for new startup or established business.

A group of highly skilled developers specializing in agile development methodology.

Focus on e-Commerce / Fintech / Business Enterprise utilizing modern programming languages as our platform.

Apa yang Membuat Frisidea Berbeda?

Kami membantu meningkatkan bisnis Anda dengan membuat produk Anda menjadi lebih baik melalui konsultasi dan keahlian desain kami.

Pengembangan web

Utilizing latest programming languages to efficiently develop front & back end of digital products.

Desain Tampilan Web

Improve the interaction between the user and the application or device by experienced UI/UX team.

Pengembangan Seluler

Dibuat dengan indah menggunakan aplikasi iOS dan Android, aplikasi hybrid berbasis web dan aplikasi antar platform.

Staff Augmentation

Provide staffing solution for businesses to fill the gap in team or to fulfill the IT objectives.

Keamanan Terpercaya

Konsultasikan berbagai masalah keamanan yang anda hadapi untuk memastikan keamanan anda dapat terlindungi dengan baik.

Pemasaran Digital

Use various digital channels to generate leads & brand awareness for products and services.

Collaborating and helping at every stage

Be the perfect partner at any stage of the business development.

Mulai dari awal

Bring ideas to fruition through collaboration.

Siap untuk tahap selanjutnya

Using the latest technology to scale up operations and add more features.

Peningkatan Halus

Make subtle improvements to product offerings or create a new line of features.

Applications we have created

Serving different needs in a variety of industries.

Fintech

Apps that allows users to solicit funds from supporters to support their cause.

Edutech

Ed tech startup that serves the schools, candidates and companies.

Insurtech

Created & implemented to improve the efficiency of the insurance industry.

Social Commerce

Allows users to sell products or services directly on their social media.

Social Networking

Networking and dating apps that provides users opportunity to get to know each other.

Tetap Peduli setelah berjalan

Produk digital tidak pernah sepenuhnya selesai. Setelah tahap pertama selesai, kami siap untuk membuat fitur baru atau membantu dalam pengembangan.

Mari kita

UNGGUL

bersama

Kami ingin mendengar lebih banyak tentang ide Anda. Ceritakan pada kami dan mari ubah ide hebat Anda menjadi kenyataan!