Every line of code matters
Utilizing modern programming languages as our platform, we refine, design & build digital products for startups & established businesses.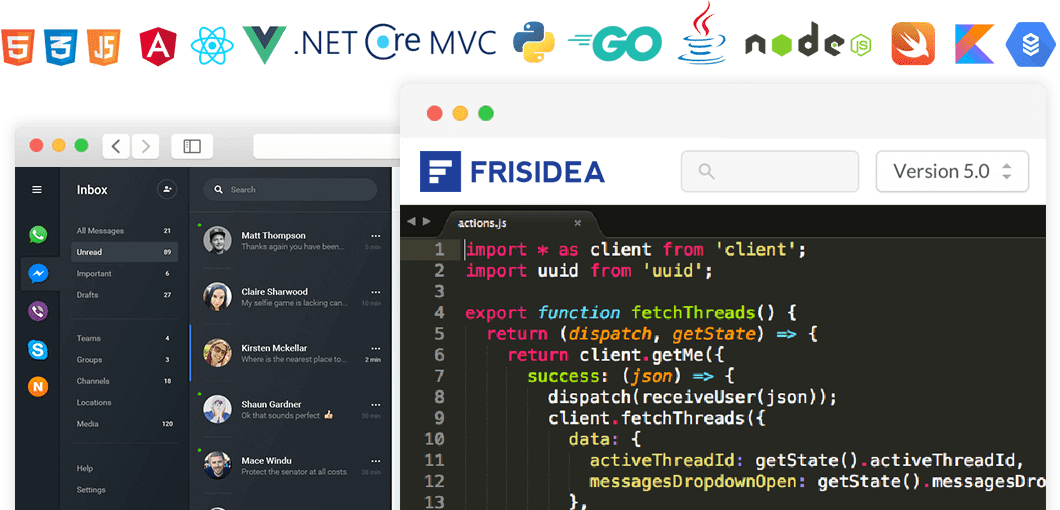 Bring ideas to life with Frisidea
Frisidea is the enterprise technology partner of choice for software development, delivering a broad range of web, mobile, and desktop controls coupled with a service-oriented approach throughout the entire application life cycle.
The right partner in every stage of the technology development
Design and build stunning and usable apps for web and mobile.

Build product for new startup or established business.

A group of highly skilled developers specializing in agile development methodology.

Focus on e-Commerce / Fintech / Business Enterprise utilizing modern programming languages as our platform.

What Makes Frisidea Different

We help you elevate your business by taking your product to the next level through consult and the craft of design.

Web Development

Utilizing latest programming languages to efficiently develop front & back end of digital products.

Web Design Interface

Improve the interaction between the user and the application or device by experienced UI/UX team.

Mobile Development

Beautifully crafted using full native iOS & Android apps, web-based hybrid apps & native cross-platform apps.

Staff Augmentation

Provide staffing solution for businesses to fill the gap in team or to fulfill the IT objectives.

Concrete Security

Consult on the various security issues facing the brand to ensure the operation is well protected.

Digital Marketing

Use various digital channels to generate leads & brand awareness for products and services.

Collaborating and helping at every stage

Be the perfect partner at any stage of the business development.

Start from scratch

Bring ideas to fruition through collaboration.

Ready for the next step

Using the latest technology to scale up operations and add more features.

Subtle improvements

Make subtle improvements to product offerings or create a new line of features.

Applications we have created

Serving different needs in a variety of industries.

Fintech

Apps that allows users to solicit funds from supporters to support their cause.

Edutech

Ed tech startup that serves the schools, candidates and companies.

Insurtech

Created & implemented to improve the efficiency of the insurance industry.

Social Commerce

Allows users to sell products or services directly on their social media.

Social Networking

Networking and dating apps that provides users opportunity to get to know each other.

Care Beyond Launch

Digital products are never fully finished. After the first big design push we stand by to create new features or to assist developers with assets delivery.

Let's

EXCEL

together

We'd love to hear more about your idea. Talk to us and turn your great idea into reality or something even greater!